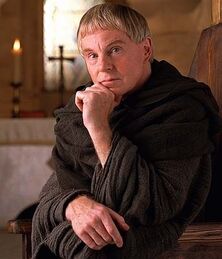 Born May 1080 (fict)
Brother Cadfael ap Meilyr ap Dafydd was a Welsh Benedictine monk living at Shrewsbury Abbey.
He was born in Trefriw, Gwynedd to a serf family.
He was a soldier in the First Crusade during the last years of the 11th century and fought at Antioch. It was whilst in the east that he became a talented herbalist.
After serving in both the army and the navy he became a monk and was at Shrewsbury during the civil war between King Stephen and Empress Maud.
Affiliations
Edit